The COVID-19 pandemic has ushered in countless changes and adaptations around the globe, one of which is a greatly increased interest in VPN's. We've seen an influx of traffic, mostly from consumers who appear to be completely new to VPN's.
I've been using Google Trends to track the spike in interest and see what interesting tidbits can be learned.
Worldwide Interest is Up

Live Data from Google Trends
March 17, 2020. It looks like global interest is up about 11% over the last week or so. I would expect this to continue increasing over the next 2-3 weeks as the virus continues to spread to new countries/regions.
April 14, 2020. VPN interest peaked at ~60% higher than usual the week of March 15-21. It's declined since then but is still up more about 25% above pre-COVID levels.
VPN Interest In Italy Skyrocketed in Mid-March

Live Data From Google Trends
March 17, 2020. This makes sense, because Italy was one of the first countries to be locked down. More users working from, watching media from home, etc. It will be interesting to see what new level the VPN interest holds at after this initial spike.
April 14, 2020. VPN interest in Italy has remained far above where it was pre-COVID. As of now Italy is still in lockdown-mode.
VPN Interest in US Doubled Before Declining

Live Data From Google Trends
March 17, 2020. Again, this follow closely with the global spread of COVID-19. The US is behind Italy at the moment, so it follows that VPN interest is moving along the same path. If the US is truly following the same pattern, I would expect to see an even larger increase in interest over the next 1-2 weeks.
April 14, 2020. US interest peaked during the week of March 15-21, doubling previous interest. As Americans settled into shelter-in-place orders and schools and businesses closed, VPN interest peaked and then started declining. Interest is still significantly higher than before COVID-19.
Why the Increased Interest in VPN?
What can we learn from this spike in interest? Here are a few of my hypotheses.
Increase in corporate VPN interest due to working from home
Many people working from home, particularly for larger companies, are asked to utilize the company's VPN to connect to the corporate network. Google Trends bears out this relationship very well, as you can see the clear connection between the increase in VPN interest and work from home interest over the last 2 months.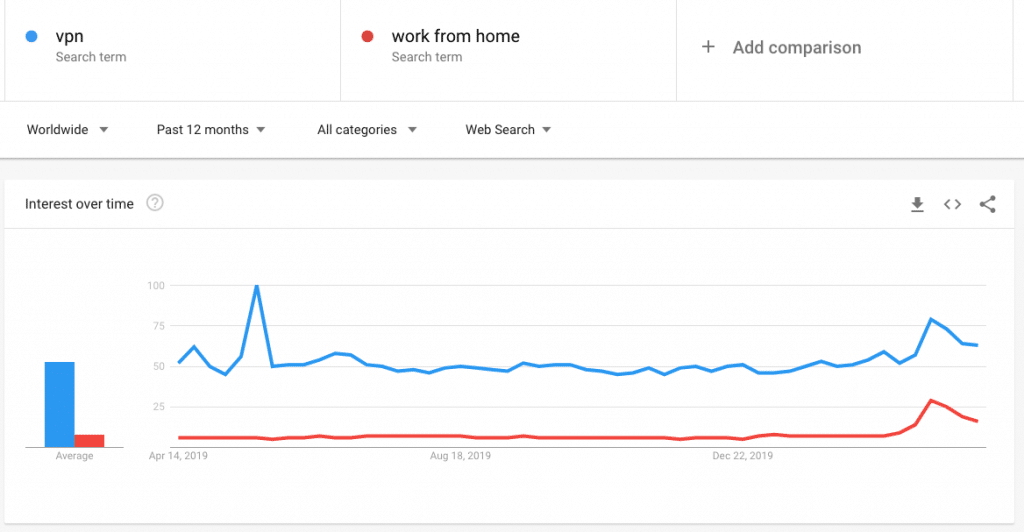 People stuck at home are watching more online entertainment
Consumer VPN is synonymous with online streaming services like Netflix, Hulu, etc. because of the issue of geolocation. The data in Google Trends tends to back up this assumption to some degree. It's hard to directly compare "VPN" to "Netflix" because of the vast difference in popularity, but if you focus on increases over the last couple of months in the chart below it's hard to argue that they don't correlate very well.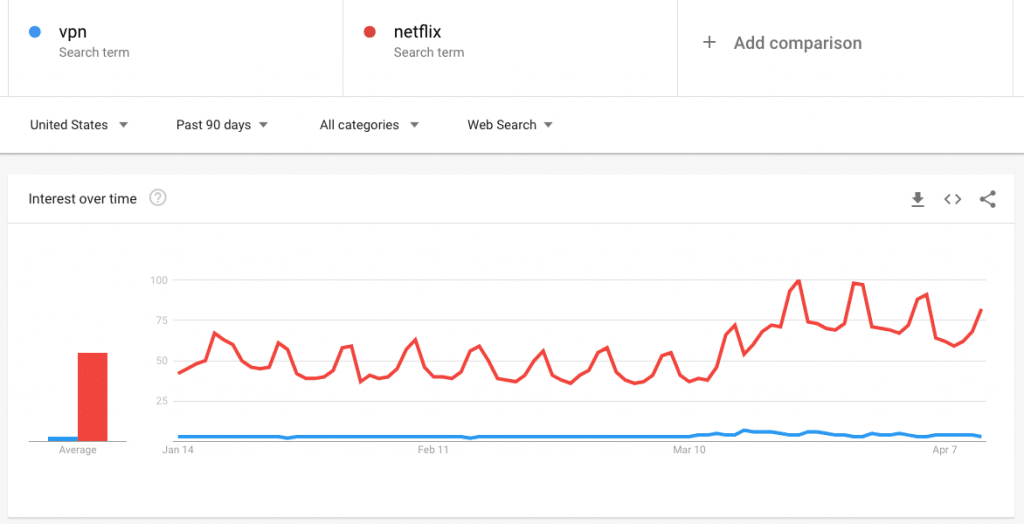 More to Come
We'll continue to update this post as more information becomes available.